NASA MAIAC Product
Alexei Lyapustin (NASA GSFC)
Co-Is: Y. Wang (UMBC), S. Korkin (USRA)
Generation of Advanced VIIRS Land-Atmosphere Product Suite with Algorithm MAIAC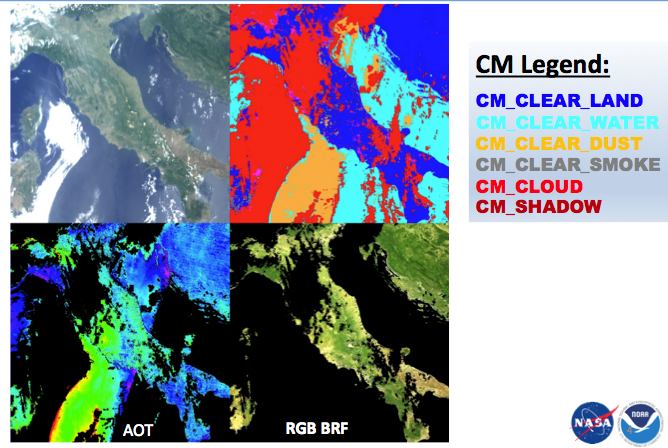 The NASA multiangle implementation of atmospheric correction (MAIAC) algorithm includes the following products:
Cloud Mask (including dynamic LWS mask); AOT, AE, aerosol type (background/smoke/dust)
BRDF (RossThick-LiSparse) model; BRF (or surface reflectance: @ 0.375km for I-bands);
Snow grain size (mm) and sub-pixel snow fraction (@ 0.75km).
The algorithm will accumulate and dynamically update 'static' surface information for cloud detection, aerosol retrievals, atmospheric correction, and snow retrievals. The MAIAC product is a new MODIS Terra/Aqua product within MODIS Collection 6.
The MAIAC validation plan includes the following:
Cloud Mask (CALIPSO): comparison of MAIAC, MODIS and VIIRS Cloud Masks
Aerosol: broad cross-team NASA/NOAA MODIS/VIIRS product intercomparison & analysis
AERONET (aerosol)
AERONET and MODIS subsets (ASRVN) - BRDF/BRF validation
Comparison with MODIS & VIIRS SR products (spectral; spatial; angular and temporal metrics)
Product Details and DAAC links
| Product Name | SNPP | JPSS-1 |
| --- | --- | --- |
| Land Surface BRF Daily L2G Global 500 m SIN Grid | VNP19A1 | VJ164A1 |
| Land Aerosol Optical Depth Daily L2G Global 1 km SIN Grid | VNP19A2 | VJ164A1 |
| BRDF Model Parameters daily L3 Global 1 km SIN Grid | VNP19A1 | VJ164A3 |